Meet Your Local Pool Cleaners
Our Management Team
Adam Courter - Owner/General Manager - Adam grew up in Bradenton and has a business degree from the University of Florida where he met his wife Susan. After nine years in community banking Adam acquired and grew an award winning residential cleaning franchise which he sold prior to joining OTPS. Adam's family is blessed with a young son and daughter, an American Bulldog appropriately named Tank and a mischievous cat.
Leslie Norton has been enhancing OTPS since 2016 as our Office Manager. When not taking care of our customers' needs, she enjoys time with her grandchildren as well as her African Grey parrot and Boston Terrier pups. She was born in Georgia but raised in Clearwater.
Justin Reynolds - Repair Manager - was born in Morristown, N.J. and moved to Sarasota in 1994. He first joined OTPS in 2007 as a Summer Technician and returned full time in 2014. In his spare time, Justin is an active musician, teaching drums and recording locally from a home studio. He enjoys the Sarasota beaches, taking his Westie to the park and cooking a good meal. Justin also conducts many of our pool repairs and equipment installations.
Jason Scarlett – Team Lead and Equipment Coordinator – Jason is originally from London, Ontario but moved to Sarasota in 1996 to be close to his family that had relocated here. Jason first entered the pool industry in 2007, buying a small pool route he ran for thirteen years. Jason sold that business a couple of years ago and, after a foray into a different career, decided to get back into the great outdoors and the pool industry by joining On-Time Pool Service. Jason can be found every weekend on the golf course and has been a teaching golf professional. 
Dan Rohn - Team Lead and Lead Trainer - Dan comes to On-Time Pool Service with five years of pool company experience managing a Bradenton Pinch-A-Penney Store. Dan worked in all aspects of that business, including filling in on routes, managing the service department, and managing retail. Dan was born and raised in Bradenton. Dan enjoys fishing, especially for snook, hanging out with family and friends, technology and photography in his spare time. Dan has an FAA application to fly the drone he uses for photography.
Nicole Pelky - Office Assistant - moved to Sarasota from St. Thomas in the U.S. Virgin Islands but is originally from Michigan. She loves spending time with her significant other, John, and her feline purr baby, Hazel. Since she is relatively new to Sarasota, she enjoys exploring the area and attending our festivals and events. When at home, you'd likely find her on the lanai with a good book.
Saul Garcia – Service Manager - Saul is a lifelong friend of our Senior Service Manager Ted Garcia. They are not related despite sharing the same last name. Saul has three brothers and five sisters all of whom were raised and still reside in Bradenton. Saul enjoys keeping active by cleaning pools and finds that it helps him to keep fit. In his free time he enjoys hanging out with his wife and eating.
Tristan Serrano– Senior Service Manager –was born in Manchester, New Hampshire and moved to Florida with his family at a young age. He joined OTPS in early 2019 as a Service Manager and loves the outdoor work. However, one day, he plans on turning his love of animals into a career as a veterinary technician.
Ted Garcia – Senior Service Manager – was born and raised in Bradenton and joined OTPS as a Service Manager in 2016. Outside of work, Ted is an active boxer and passionate about the sport. He owns three dogs and follows the Bucs and Chicago Bulls.
Andy St. Lot– Service Manager – had worked in the pool service industry for a while before joining OTPS in early January 2019 as a Service Manager. He lives with his Germany-born wife in Sarasota along with two dogs and proclaims to be a "chef in-training". Andy is originally from Miami and is passionate about the Miami Heat basketball team.
Tyler Manse – Service Manager  – Tyler is a native of Bradenton where he has lived for most of his life aside from nine years in North Carolina. He is a big Bucs fan and watches a lot of football and sports. He also enjoys fishing, going to the beach and enjoying the Florida outdoors.
Jordan Love – Service Manager – Jordan grew up just south of us in Venice and attended Venice High School. Immediately before joining On-Time Pool Service Jordan was a shift manager at Walgreens. He was looking to learn a trade and spend time working outdoors. With a year of previous landscaping experience, he isn't a stranger to the Florida summer. In his spare time Jordan enjoys going to the gym, playing basketball and swimming.  
Kyle Smith – Service Manager  – Kyle hails from Kentucky and is a big Wildcats basketball and Bengals football fan. He is married with four kids, four grandkids, and cats named Ninja and Colonel Mustard. He and his wife came to Florida for the beach and saltwater fishing. Kyle also loves bacon, as do most of us here on the On-Time Pool Service team
Frank Dispenza – Service Manager  - Frank grew up on a family farm in Western New York. He was a police officer in a suburb of Buffalo for twenty years. Upon retiring from the police force Frank started and ran a butcher shop. Frank and his wife Rachel have six children, five boys and one girl. Frank's thirteen-year-old son found Sarasota in his search for a school that appealed to him. The family loved the weather and Florida appealed to them, so they made the move. We are happy to have Frank on the team.
Isiah Mays – Service Manager – Isiah was born at Sarasota Memorial and is a lifelong resident of Bradenton. Isiah comes from a large family with two brothers, two sisters, and a Frenchy dog named Jiffy Lube. In his off time, Isiah enjoys playing basketball, playing video games, watching movies, and reading at least one new book monthly.
Ismael Pantoja –  Service Manager –Ismael has worked for OTPS for a few years as a Service Manager and is well liked by all who know him. Ismael recently rejoined the team after living in Los Angeles and Atlanta pursuing his music career. Ismael spends much of his free time with music as a producer and also finds great satisfaction with self-development, seeking inner peace though meditation and targeted readings. He is the proud father of two twin girls that bring him great joy. and is happily married with a four children.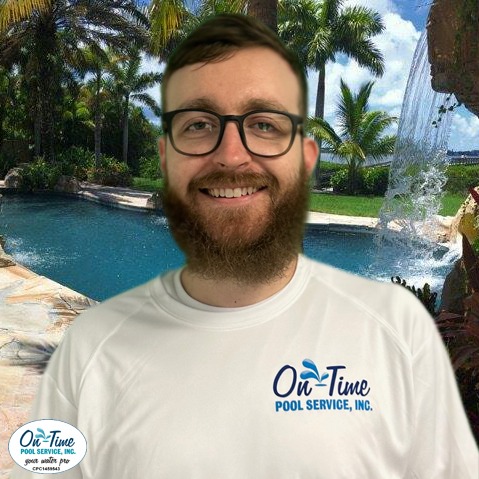 Josh Wilkes – Service Manager –Josh is a rare true Sarasota native, having been born in Sarasota and graduated from Sarasota High School. Josh enjoys spending time with family and friends in his off time. Ping pong and cornhole are among his favorite past times. He also enjoys kayaking and fishing in the Gulf, including Manatee watching in the grass flats by Mote Marine.
Brad Turner – Service Manager –Brad moved to Fort Myers from his home state of Michigan in 2012 and recently relocated to Sarasota. Before joining On-Time Pool Service, he worked with a pool builder and service company for five years in the Fort Myers area. Brad has two sons, aged 8 and 13. Brad enjoys spending time with his family, playing basketball, going to the park, and playing video games in his spare time.
Ritchie Lapp – Service Manager– Ritchie is originally from Pennsylvania. He has four sisters and two brothers. Ritchie and his brothers are all involved in family businesses back home. Ritchie has been vacationing in Sarasota with family for over twenty years and knew he would move down one day. Ritchie enjoys fishing, boating, and creating art involving family and nature in his spare time.
Kirk Bradley started On-Time Pool Service, Inc. in 2004 after a 20 year career in food technology. He has both BS and MS degrees that are great assistance in the chemical aspects of pool care.
Kirk and his wife, Ali are now enjoying a well deserved retirement!
Get On-Time Pool Service
Discover what so many home and property owners already know. If you want immaculate and crystal clear pool water or expert pool remodeling services, choose a reliable licensed pool contractor like On-Time Pool Service.
Schedule Pool Cleaning or Installation